Garnica has launched Ultralight Duraply, a new ultra-lightweight sandwich panel designed for outdoor applications that combines the lightness of Ultralight panels with the durability of the Duraply product range.
The new Ultralight Duraply by Garnica is an ultra-lightweight panel that combines an insulating XPS (extruded polystyrene) core with 100% plywood that is durable and weather-resistant. By combining the excellent properties (outdoor resistance, lightweight, stability and easily machinable) of Garnica's Duraply plywood panels, with an ultra-lightweight insulating material, we have achieved a product with unbeatable performance for outdoor use. Ultralight Duraply is an ultra-lightweight panel with thermal and soundproofing insulation, highly recommended for outdoor use.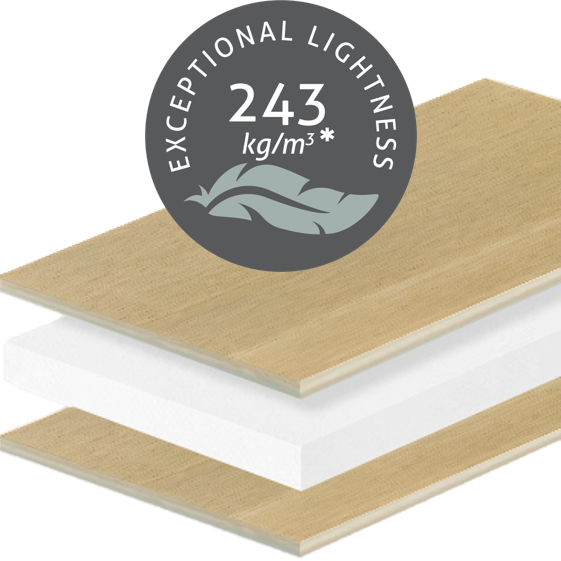 The innovative treatment applied to the plywood gives it extraordinary resistance and also makes it impervious to fungal and xylophage insect attacks. These panels have a 5-year guarantee against delamination and xylophage fungal and insect attacks.
The product is perfect for outdoor applications that require durability, lightness and thermal and soundproofing insulation: façades, exterior doors, prefabricated houses or garden cabins, as well as for use on advertising hoardings or soundproofing panels. Available in a decorative laminated finish (HPL or CPL), in different wood textures and uniform colours such as white, grey and black.
Ultralight Duraply is the result of Garnica's efforts to develop new, improved products that meet the real needs of clients and markets. The Garnica R&D&i team work continuously to transform ideas into end-products at the same time as maintaining quality, service and cutting-edge standards, in terms of manufacturing technologies, the development of innovative products and improving production processes.