Architecture and materials
23.05.2018
Garnica works with Alison Brooks Architects in La Biennale di Venezia
Read the featured article
Alison Brooks Architects' major immersive installation 'ReCasting' for the Venice Biennale explores the role of housing as civic building; as generous, life-enhancing cultural infrastructure.
Alison Brooks Architects have been invited by Biennale curators Yvonne Farrell and Shelley McNamara of Grafton Architects to respond to this year's theme of Freespace at the 16th International Architecture Exhibition – La Biennale di Venezia 2018.
Freespace celebrates architecture's capacity to find additional and unexpected generosity in each project - spaces, textures and moments that go beyond the project brief and can be freely enjoyed. Within this context, Alison Brooks Architects have 'recast' their work as four inhabitable 'totems' made of plywood panels. Each totem conveys a particular spatial and sensory experience of what they consider critical freespace in their housing architecture: Threshold, Inhabited Edge, Passage, and Roofspace. Emerging from a single plinth, the totems and amphitheatre together cast an informal stage for gathering and looking outward.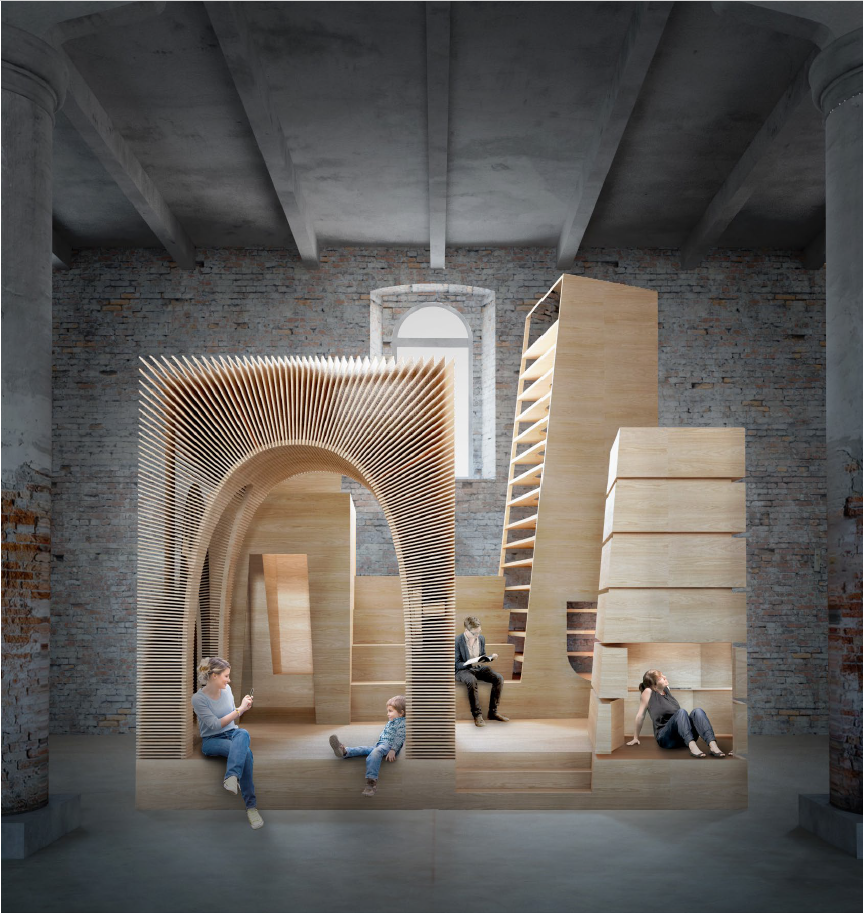 Crafted by leading British furniture maker Benchmark using lightweight, sustainable poplar plywood panels, provided by Garnica, each totem and their unifying podium invite physical engagement and exploration. Mirrored surfaces and optical techniques such as forced perspective create a series of expansive illusions.
"The architecture of housing is not only the space in which we live, it is the physical infrastructure that frames collective public life. It is relational. It is the most hard-working form of architecture that impacts everyday experience for all people. It can convey generosity, care, robustness and beauty - or the opposite. Thus the form, scale, spatial nature and texture of housing has a direct effect on our sense of well-being and on the city." says Alison Brooks, Principal and Creative Director of Alison Brooks Architects.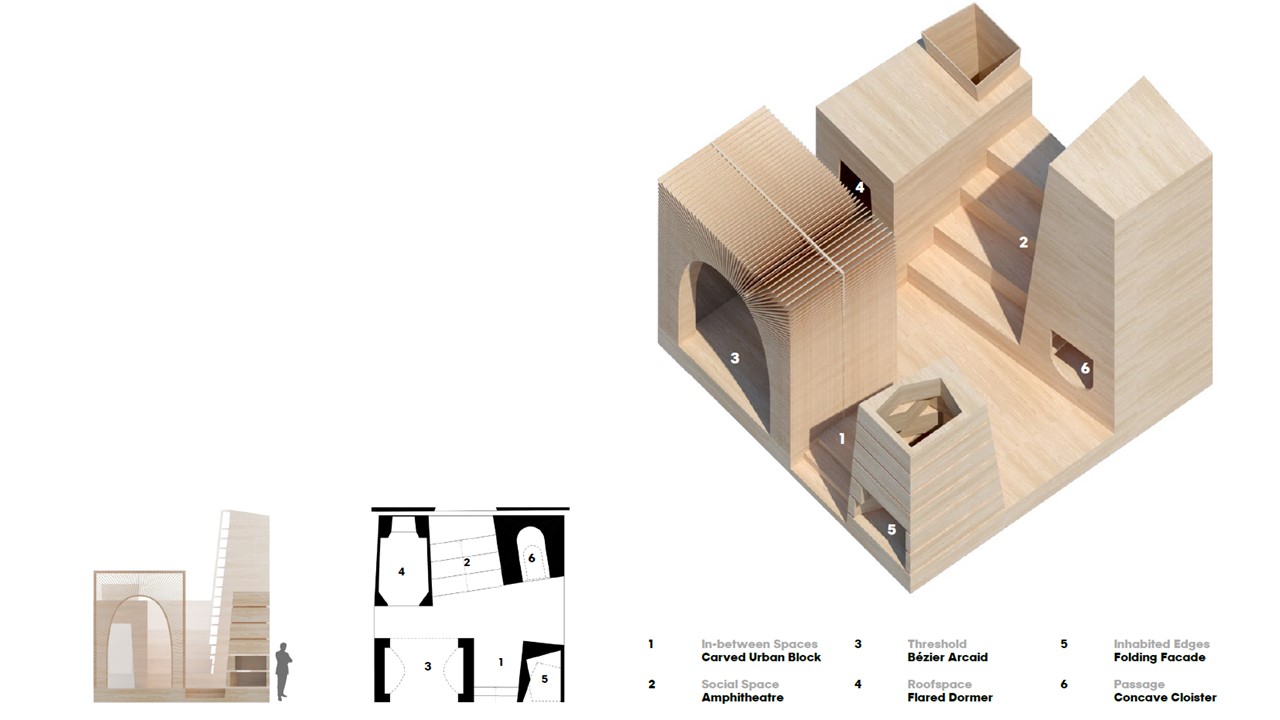 The Threshold totem is a reinterpretation of the arches at Alison Brooks Architects' proposed "S5" development for King's Cross Central Limited Partnership. The contemporary Bézier curve form creates a welcoming gesture, drawing people towards it. Parallel mirrors create an infinite arcade. The raised plinth provides a seating ledge and framed vantage point for exhibition-goers.
The Inhabited Edge totem explores the potential for generosity in the occupiable spaces between the interior and exterior, at the edges of buildings. In the Brass Building at Accordia in Cambridge, Alison Brooks Architects manipulated the geometry of the envelope to form spaces between the angled facades of a cut and folded form. A quarter of the building's facade has been 'recast' in this exhibit, with perpendicular mirrors presenting visitors with a kaleidoscopic illusion of the building's full form.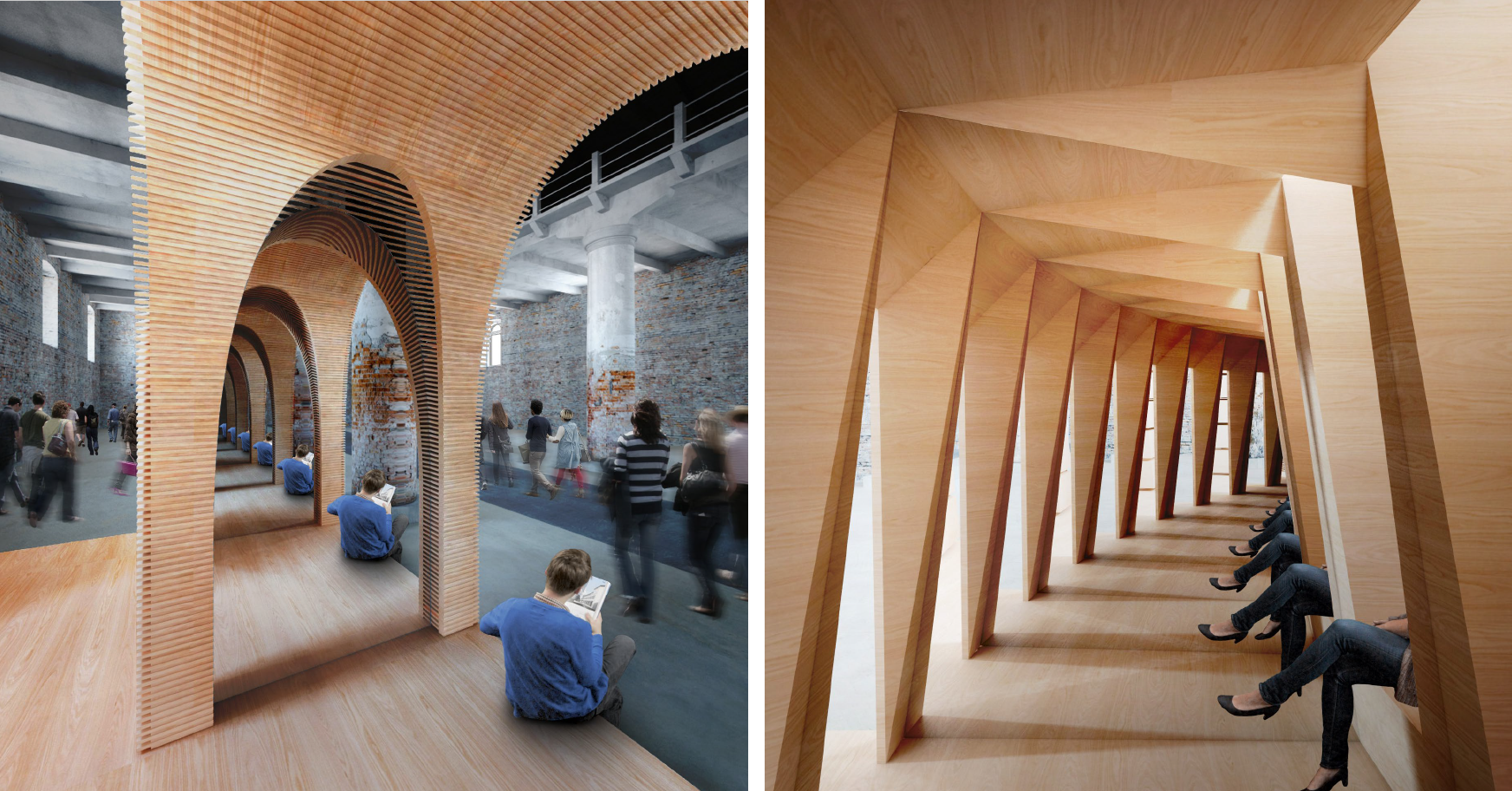 Passage highlights the potential of a corridor to create a journey, beyond its role as a thoroughfare. At the practice's Exeter College Cohen Quad in Oxford, ellipsoidal cloisters transform a corridor into a memorable place and part of a wider spatial choreography. The Cohen Quad's cloistered passages are 'recast' in this exhibit as a vertical totem. From within the totem looking upwards, visitors will sense the elliptical space of the concave cloister, bathed in natural light from a window in the Corderie.
The Roofspace totem explores the spatial quality and expressive potential of roof forms to give homes a distinctive character. Alison Brooks Architects have recast a roofspace from their terraced houses at Albert Crescent in Bath, where a faceted surface combining roofs and dormers opens out to light and views. Subtly angled mirrors reflect the flared dormers into an infinite arced illusion, echoing the scheme's three crescents.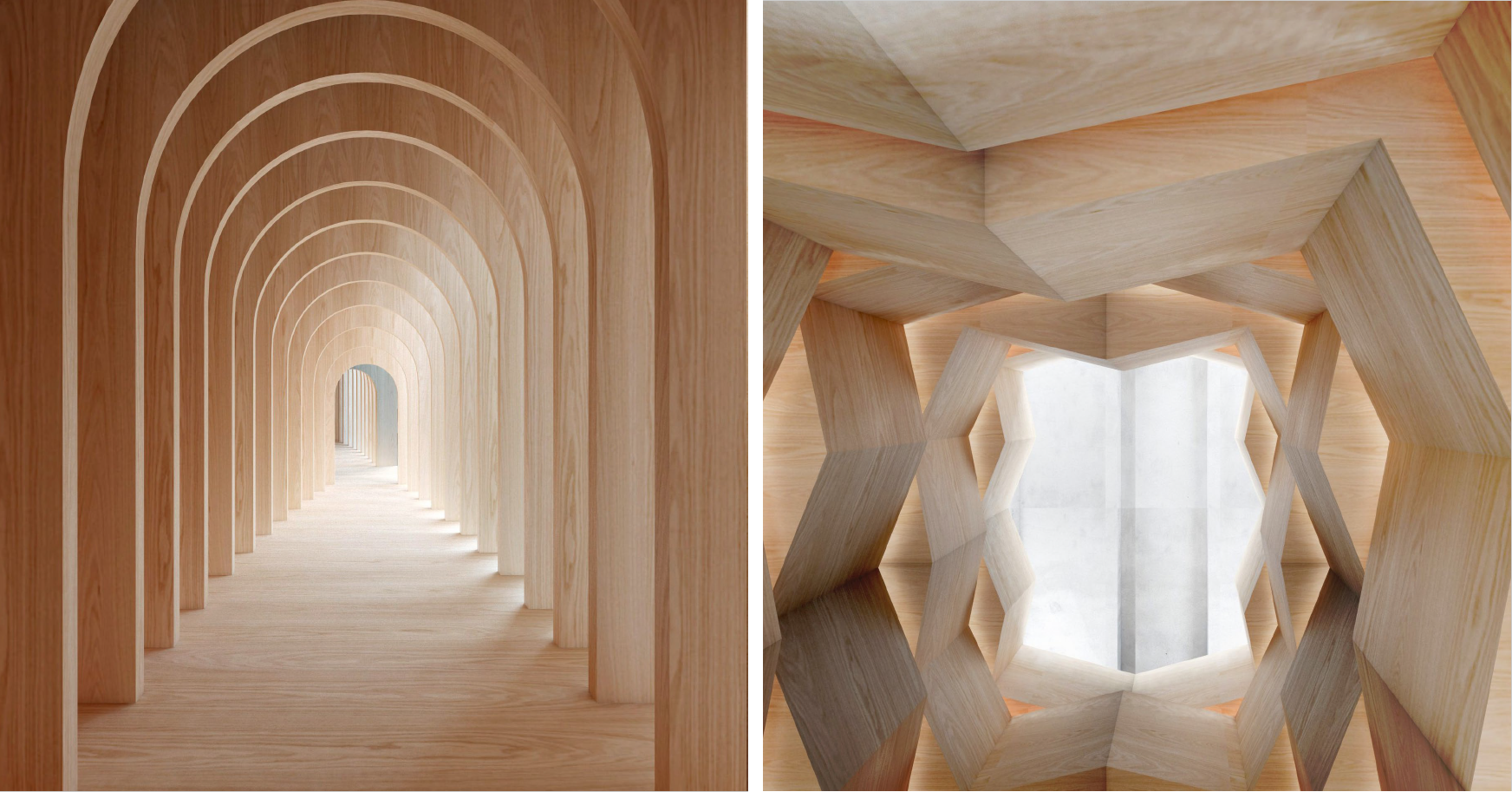 The informal, collective arrangement of the four totems. ReCasting reflects the overall massing for Alison Brooks Architects' Parkside East project for Knight Dragon. Like this project, the four totems of this installation appear as if 'carved' from single block, framing a shared social space in a tapering, interlocking arrangement. This Framed Civic Space echoes ABA's organic approach to both spatial and urban design.
Recasting will be on public display at the 16. Venice Architecture Biennale from Saturday 26 May until 29 November 2018.