Garnica enjoys great success at Carrefour International du Bois
Organised by the trade for the trade (Atlanbois and the Grand Maritime Port of Nantes Saint Nazaire), this event which is unique in Europe has the support of all the participants.
Fecha de publicación:
26/06/2018

Cuerpo de la noticia:
The leading trade show, Carrefour International du Bois, a biannual event for wood manufacturers encompassing a range of forms of production (panels, parquet, construction solutions, etc.), has ended. The trade show, the most important of its kind in Europe, was held from 30th May to 1st June in Nantes, France, and was attended by over 11,500 professionals and 550 exhibitors.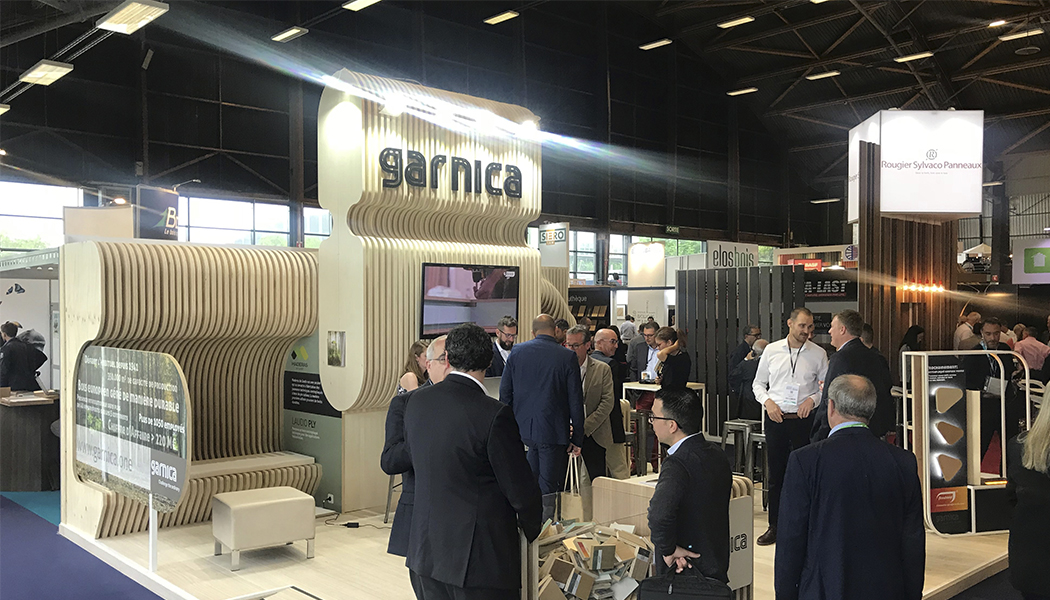 Garnica boasted one of the most innovative stands in attendance, an architectural display of interesting forms and multifunctional uses that was very well received by attendees. The stand was made entirely of Garnica's own products: Elegance Globulus, a light panel with a European poplar core and decorative eucalyptus faces made of sustainable wood, which was widely admired because of its elegance and tones of cinnamon and chocolate, and Performance Poplar panels with a white HPL finish and multi-veneer edges.
Products by Maderas de Llodio, the Álava-based company specialising in pine plywood that has recently been acquired by Garnica, were also exhibited at the event. The incorporation of Maderas de Llodio products, which complement the existing Garnica product range, aroused great interest among visitors.
The stand was visited by over 250 customers and companies interested in the company's products, who were able to talk in a relaxed atmosphere with Garnica representatives.
Garnica's latest development, a new range of Fireshield plywood panels that are 100% fireproof even in their decorative faces and veneers, attracted particular interest at the trade show. This product will have a unique certificate and will be especially valued for its innovative treatment that provides exceptional fire resistance, even after sanding or machining.