Garnica presented its latest products at Maderalia 2018
Garnica was present at the 36th edition of the FIMMA Maderalia trade fair held in Valencia from 6 - 9 February. The biennial materials and technology trade fair is a key event for the furniture, carpentry, decoration and equipment sectors.
Fecha de publicación:
20/02/2018

Cuerpo de la noticia:
This year the fair had 487 exhibitors and occupied a surface area of almost 60,000 metres (34% more than the previous fair). It also exceeded the number of visitors by 23%, with almost 36,000 attendees, of which 2,150 were from abroad.
Garnica was present with an original 64m² open stand made from Elegance plywood panels finished in varnished birch and eucalyptus. In addition they presented some of the company's most innovative products such as Fireshield, the fire retardant plywood modified by an innovative treatment that gives it exceptional resistance to fire. It was constantly exposed to "flames" showing its excellent fire resistance.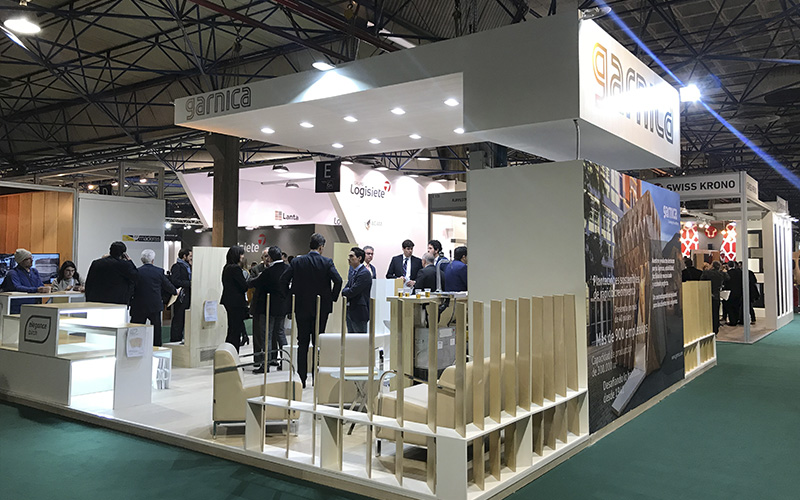 It also showcased Durable, Garnica's answer to the ever-growing demand for plywood products that are exceptionally durable even outdoors. This panel was exposed to a constant flow of water to demonstrate its resistance to the most demanding weather conditions.
In addition, at the trade fair they presented a wide variety of finishes that bring added value to plywood panels, such as high pressure laminate (HPL), MDO coatings, (PRM) painting, with an XPS core and varnishing. At the same time they also unveiled a new line of digital printing and the multi-ply panels, ideal for applications with visible edges such as decoration and furniture.
Virgilio Delgado, Sales Director for Garnica in Spain, Portugal and Italy, delivered a presentation of "Fireshield", the fire retardant plywood that is revolutionizing the market" in the Fimma-Maderalia Forum. In this exhibition, the features and benefits of the laminated fire-resistant plywood were presented and some examples of its successful application in different projects were highlighted.
Garnica's stand was a huge success with those who visited it, and over 350 people did. All visitors were offered Rioja wine tasting, cheese and hand-cut Iberian ham.