History
Garnica has its origins in a family sawmill that emerged in 1941 in Baños de Río Tobia (La Rioja). In 1973 the company founded "Maderas Garnica" and opened a factory in this town for the production of plywood.
In the 1980's Garnica started to export plywood to some countries: the high quality of the plywood was very well received at several European industrial companies that used this material for the caravan industry, boats or furniture, among others applications.
The most important growth for the group occurred when a new mill, placed in Fuenmayor, was brought into operation in 1995. One year later, a peeling operation was set up in Valencia de Don Juan (León).
In 2003 the central offices of the group were created in order to centralize and optimize services: General Management and other departments such as Sales, Technical, Production and Quality Grupo Garnica Plywood, S.A was then born.
In 2010, the group invested 30 million Euros in the enlargement of the factory of Baños de Río Tobia and in the building of a new mill in Samazan, in southern France.
In 2016, the venture capital group ICG incorporates to the Group as a shareholder. The entry of this new partner is an active support to finance growth and professional management. As a result of this strategy the production process also improved, making it possible to extend our product range.
At the same time, Garnica renews its image and adopts the purpose "Challenge the ordinary".
Sustainability
Garnica is a model of sustainable development. We consider ourselves much more than just a plywood manufacturer. We are also a company, whose production process actively promotes the environmental improvement and sustainable forestry, creating jobs in rural areas and producing long-term profitability in agricultural area with low productivity.
In Garnica we know that the future of our company depends on the future of the nature. That's the reason why we take care of every detail in our production process to ensure the environmental sustainability.
Our involvement with poplar goes beyond the production of plywood and therefore, the promotion and development of poplar is part of our vision.
All in all, we want to convey that Garnica is not only an economic agent but also a quality experience, love for the land and respect for people and the environment.
Laboratory (R&D&I)
Garnica has its own laboratory to monitor and measure our raw materials as well as our finished products in order to ensure traceability and improvement.
The following analysis are performed:
Determination of Modulus of Elasticity in Bending and of Bending Strength (BS EN 310).
Tensile test. Bonding quality (UNE EN 314, DIN 68705, BS1455).
Determination of Moisture content (UNE EN 322).
Determination of Density (UNE 323).
Raw Materials Control.
Calibration and validation of our tools and processes.
Determination of formaldehyde emission. Part 2: Formaldehyde release by gas analysis method. (UNE 717-2).
Certifications
For any quality related inquiry or specific product certification requirement, please contact quality@garnica.one
More information about PEFC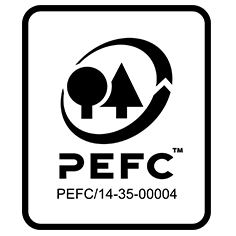 Policies
Garnica wishes to send ensures that all its activities are founded in respect for the law and in principles which are translated into ethical behaviour guidelines, in which each one of us takes part.
The Company Ethical Code is established to facilitate the implementation of this Crime Prevention Policy, and it will be our guide, involving a commitment to legality, good government, transparency, responsibility, independence and reputation, with respect to socially accepted ethical standards.
Furthermore, it represents a consolidated culture and various guidelines for responsible behaviour which must be shared, accepted and respected by all.
Ethical behaviour is, in itself, everyone's obligation. Fulfilment of this duty will generate a greater reputation for integrity, promote responsible behaviour, improve our performance and strengthen Garnica's relationship with two of our greatest assets – our clients and our employees.