Garnica has introduced in the North American market a new and revolutionary technology called Naturbind™ that consists of producing panels using an adhesive with no added formaldehyde.
The new adhesive is developed based on a natural polymer that improves indoor air quality thanks to its exclusive formula with no added formaldehyde.
Due to the potentially harmful effects of exposure to formaldehyde, many governments are regulating its use in some products and processes; this is true in the US and Japan. In Europe there is growing concern over the health risks it poses, so its use has been monitored since the 1990's, and more restrictive regulations are expected soon.
Anticipating this potential problem in North America, Garnica has developed Naturbind™, a new glue technology with no added formaldehyde. Products with Naturbind adhesive comply with the most rigorous indoor air quality standards, making homes with these materials safer and more comfortable, directly and positively impacting people's health.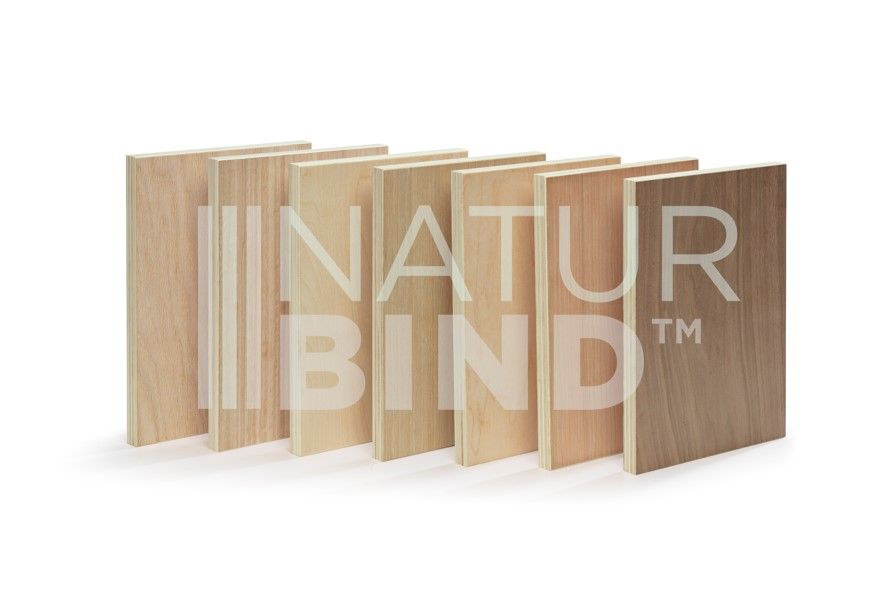 By combining Garnica's poplar core, from sustainable fast-growing European plantations, with the new Naturbind glue technology, we have achieved a unique and high-quality plywood that protects people's health and is environmentally friendly.
Moreover, Naturbind has excellent properties of adhesion, resistance, and flexibility, with the added advantage of not endangering the health of those who come into contact with products treated with these adhesives.
This new compound complies with all international safety standards and maintains the same quality that is expected of all Garnica's products:
It complies with and exceeds the CARB Phase II and TSCA Title VI global formaldehyde emission standards.
It reduces formaldehyde emission in NAF plywood by at least 45%* compared to other types of panels (MDF, particle board, ...)
* According to the TSCA Title VI standard
It maintains exceptional performance in terms of the adhesive quality of its veneers, complying with ANSI / HPVA HP-1 Type II requirements as well as the European UNE-EN 314-1 standard.
It improves indoor air quality for end users and helps prevent respiratory illnesses.
Naturbind is particularly suitable for indoor spaces, both in commercial and private home applications, creating safe and healthy environments for people.
Naturbind panels are a perfect choice North American market, especially for interior design projects, furniture manufacturing, or interior carpentry. They are also a perfect fit for covering areas in RVs or vans and for any other construction project that requires a safe and high-quality material.
Garnica has created a wide range of products and formats based on Naturbind technology. Options include unfinished panels and decorative finishes, as well as varnishes or even decorative laminate or primed finishes. In addition to the wide range of products offered, they come in a variety of dimensions and thicknesses, including special formats and XL sizes to maximize panel use in any kind of project.
This new adhesive technology is only for sale in the North American market, Naturbind is one example of Garnica's commitment to sustainable growth and development of products that protect people's health and are environmentally friendly.
Download here Naturbind by Garnica brochure!