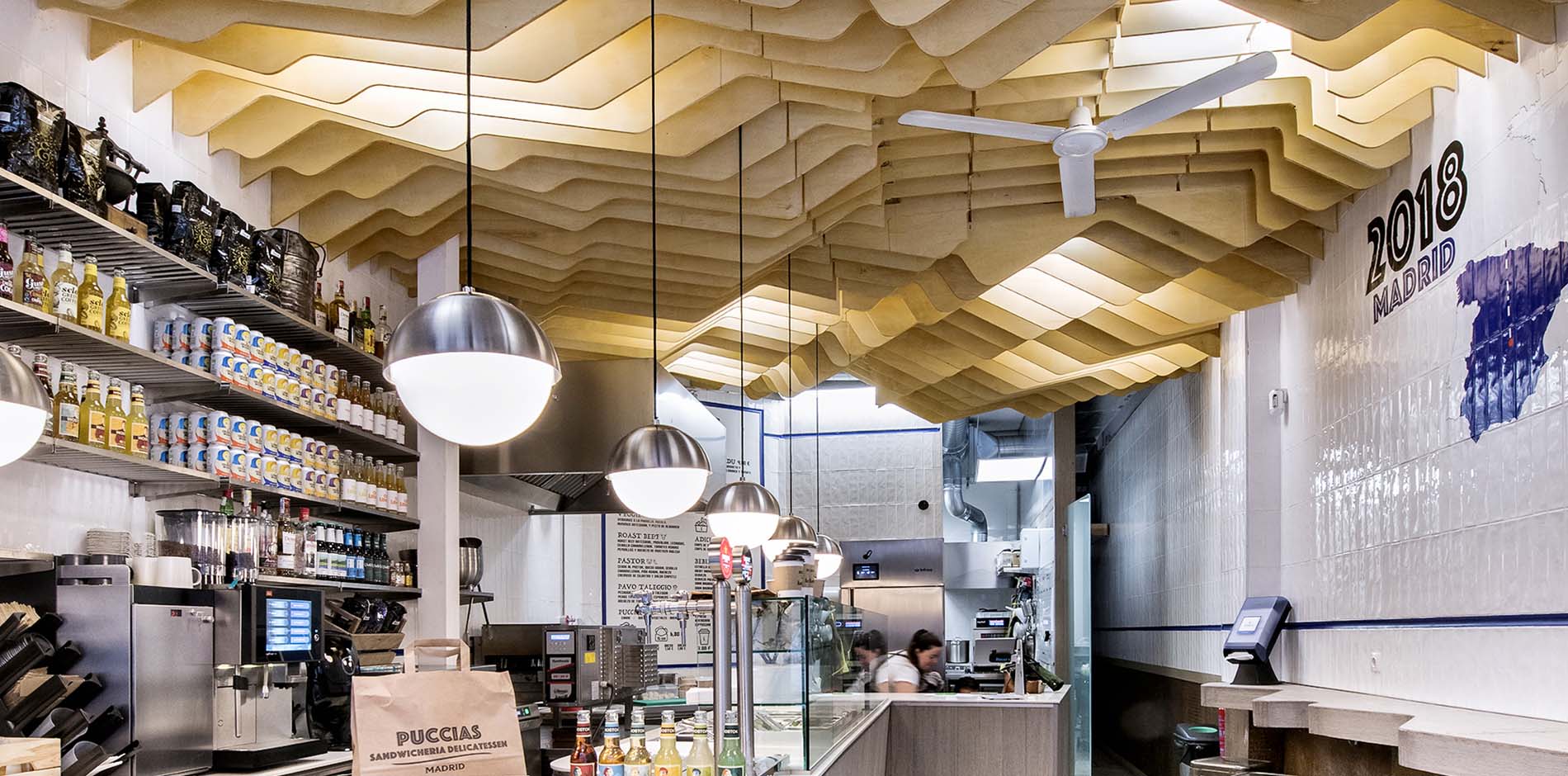 Undulating plywood ceiling perfects movement and acoustics in Madrid restaurant
arrow_back
Undulating plywood ceiling perfects movement and acoustics in Madrid restaurant
A highly unique project in the heart of Madrid, where a delicious meal can be enjoyed in delightful surroundings.
El bar restaurante Puccias es un lugar de referencia en Madrid en el que se pueden disfrutar las deliciosas puccias, sándwiches italianos originales de La Puglia.
Además de ofrecer estos bocados tan originales y sabrosos, el local cuenta con otra singularidad: sus techos han sido decorados con una estructura ondular de madera contrachapada de chopo que simula el movimiento de las ondas y las olas. Aunque la madera pueda parecer un objeto estático, los creadores han jugado con los tableros para "engañar a la mente" y dar una nueva dimensión al local. Además, esta estructura ondular del techo favorece el paso de las ondas sonoras logrando una estupenda acústica para disfrutar de la música que suena en todo el bar.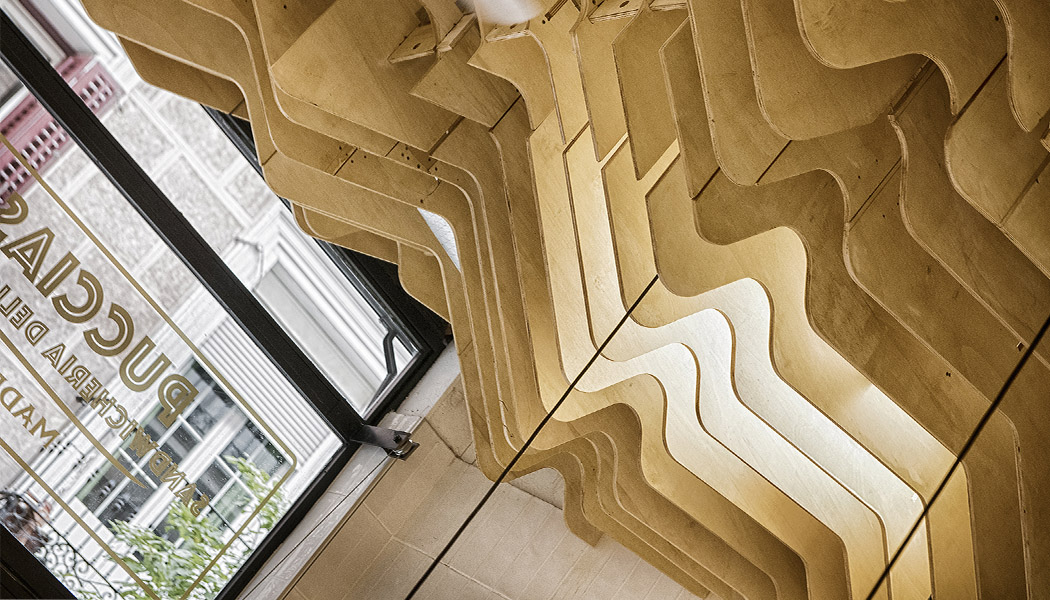 El estudio de arquitectura encargado del proyecto, Aldea Sophia, eligió los tableros Efficiency Poplar de Garnica, contrachapado 100% chopo europeo procedente de plantaciones gestionadas de forma sostenible. Los tableros de chopo se caracterizan por una gran ligereza y facilidad de mecanizado, lo que permite cortarlos sin ninguna dificultad en la forma deseada. Además, la excelente calidad superficial del chopo y su color claro, aporta una excepcional luminosidad a todo el local.
El proceso de mecanización para cortar los tableros y darles la forma ondulada se ha realizado con una máquina CNC, de control numérico, para lo cual el chopo, y concretamente los Efficiency Poplar son un tipo de madera contrachapada ideal: debido a su ligereza y baja densidad se mecaniza y moldea con gran facilidad, lo que repercute en un ahorro de tiempo y costes muy importante en el trabajo de carpintería.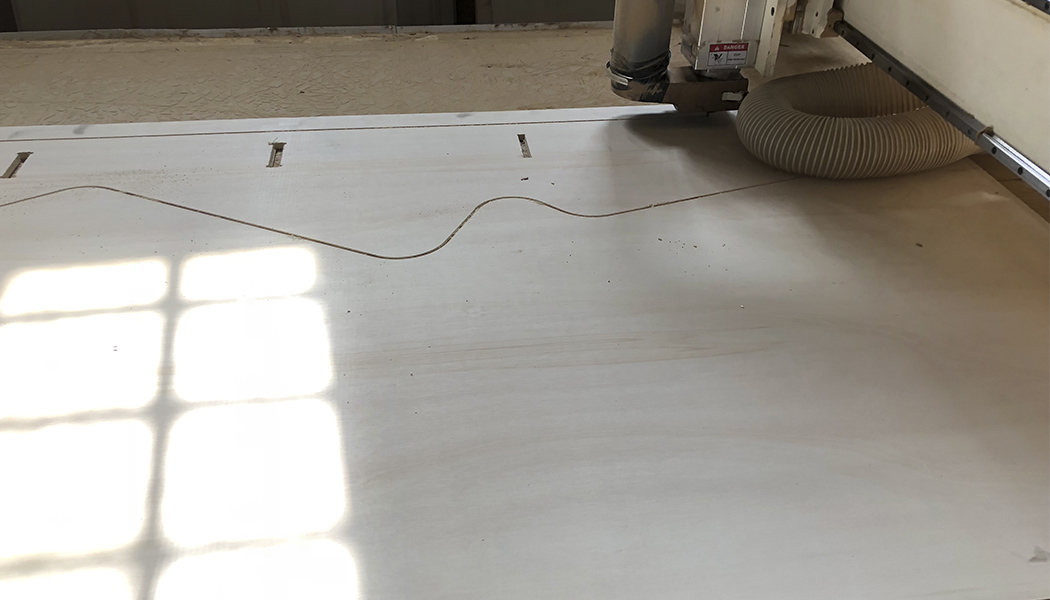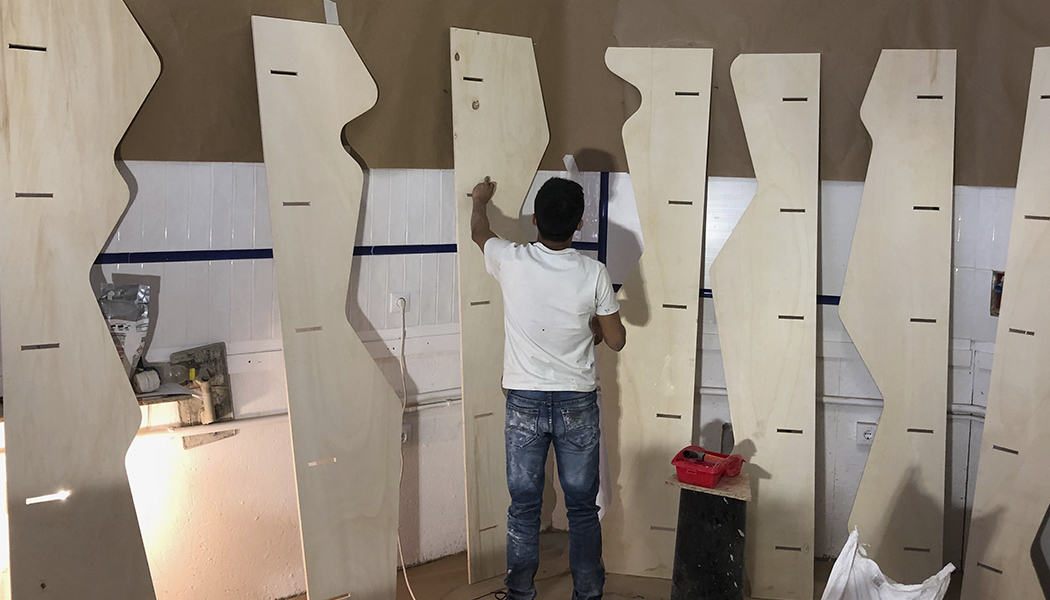 Alonso Vargas, Responsable de Marketing de Puccias, nos explica la razón de haber optado por esta original decoración para el techo del local: "El espacio en el que nos movemos está lleno de ondas que no percibimos a la vista, pero que nos mueven y nos motivan a seguir el traslado de energía. La construcción de nuestro techo es un reflejo de un movimiento constante, que permite que a la mirada de los visitantes el espacio se expanda y sea mucho más amplio y agradable para las personas que buscan dónde comer. Es un lugar que invita al movimiento, a seguir transformando lo que nos comemos en la energía que nos mueve día a día".
El restaurante, inaugurado en 2018 y situado en el popular barrio de Chueca de Madrid, se caracteriza por servir originales puccias, sándwiches de pan recién horneado, cocinado con masa madre, que se parten por la mitad al estilo de la pita griega y que se rellenan con distintos tipos de carnes, embutidos, quesos, verduras y aderezo, siguiendo las recetas tradicionales italianas de la región de La Puglia.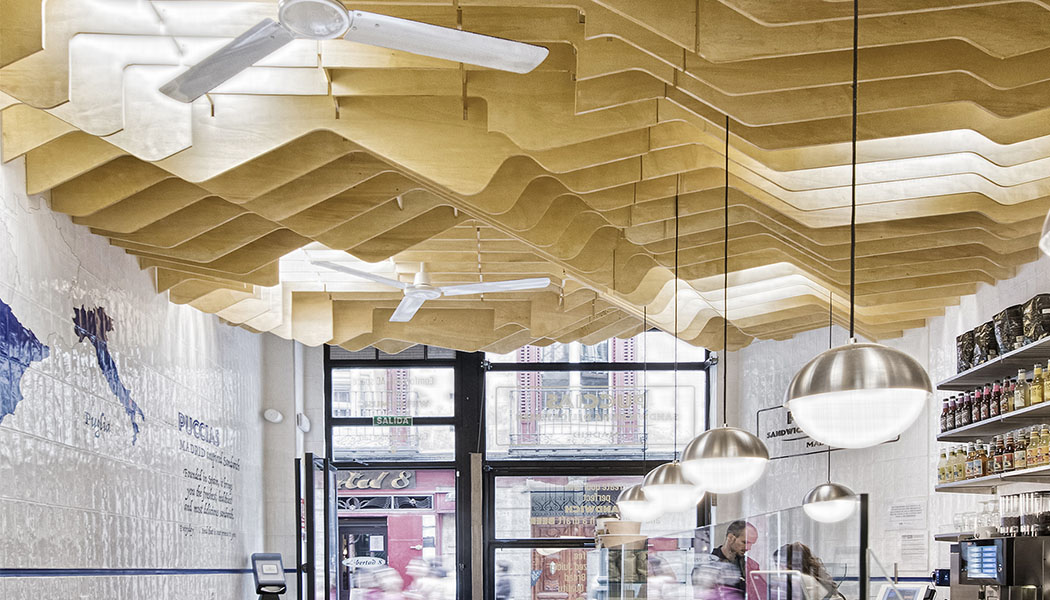 Related products